Net Marketing
Advertising. It's lost its muster. Even the word is a turn-off. So we've created our own version of it—our own way of doing things in an evolving marketplace that's lost its attention span for corporate messaging.
We call these solutions, NET Marketing, where we carry out our Non-Advertising processes (designed to connect and build a relationship with your consumer), as well as organically spread your brand throughout the Web. Think of Non-Advertising as word of mouth referral, only there are literally millions of mouths (ears, really) listening online.
Enacting these Non-Advertising processes allow us to achieve maximum online exposure for your brand. Or, as we call it: Internet Brand Penetration. It's all part of getting your messages out there, engaging consumer after consumer along the way. It's measurable, it's highly targeted, and it works harder than any print, radio, or TV ad ever will.


New Media's Non-Advertising™ platforms are freely accessible to anyone with a computer and an Internet connection. But just because they are readily available to everyone doesn't mean that everyone is capable of managing them properly. In fact, as simple as it seems, one person can't do it all. New Media consists of powerful marketing tools that must be strategically managed consistently, cohesively, and creatively by a team of New Media experts. We call them Brandcasters—writers, publishers, programmers, designers, and strategists who understand the details and possibilities of properly managed New Media strategy. Maintaining a New Media strategy in your marketing plan is no longer an option; it's an essential component that must be professionally monitored to succeed in today's competitive business world. Are you ready to embrace the marketing power and possibility of New Media? Start protecting and enhancing your online market share now before it's too late.
There are four platforms of Non-Advertising, listed in detail below:
1: Social Media Marketing
Our Brandcasters use Social Media Outlets (SMOs) like Facebook, MySpace, Twitter, YouTube, and others to spread relevant messages about your products or services. Social Media Marketing (also known as SMM) uses the consumer as a medium, promoting dialogue and shared experiences, which in turn fosters social validation—that priceless stamp of public approval that every brand covets. Management of SMM includes creating/modifying profiles, social networking, promoting content, and optimization.

2: Search Engine Management
Search Engine Management is how our Brandcasters prepare your website for the search engines. This includes keyword research & analysis, linkage, and analytic reporting, so that you achieve the top rankings for your website:

Selecting Key Phrases
Creating New Content
Creating New Landing Pages
Updating Meta-tags
Submitting Sites to Search Engines
Monitoring Rankings
3: Blog Publishing
A blog is a type of Web page authored by one or more bloggers—ordinary people who, through their blogs, become citizen journalists, broadcasting their thoughts and opinions to anyone who's willing to listen. Blog publishing from our Brandcasters includes researching topics, commenting, and promoting across the Web.

This is another great strategy to get your brand noticed by the search engine crawlers. Online P.R. is diffusing authored, topic-focused press releases throughout the Web using various e-wire applications. Your brand's message is written, coded, and programmed for easy pick-up by publishers both near and far.

Need a Crash Course on Internet Marketing?
CREATING ORGANIC GROWTH AND LINKAGE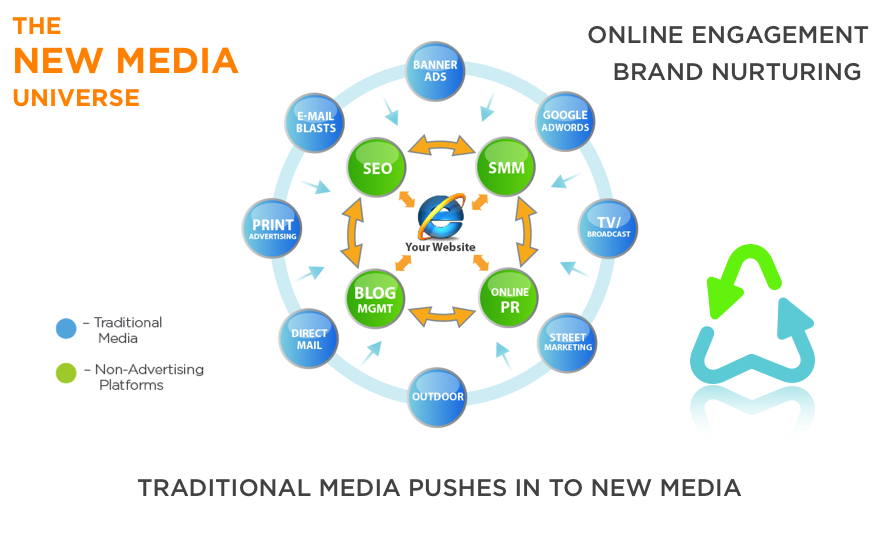 Fig 1. Non-Advertising Platforms are closer to your brand's website as they engage consumers in a cycle of information exchange. Traditional Media pushes in from the outside, moving consumers closer to online engagement and brand nurturing.
Organic growth is highly prized because it helps your online brand grow exponentially through consumer engagement. In effect, your brand has an increased chance in "first-page" rankings (exposure) on search engines. Greater exposure is accomplished through linkage—the combined sharing and spreading of your message throughout the Web using all advertising platforms available. The higher your linkage, the better your rankings. Neither print, broadcast, nor outdoor media can quantify results the way that true Internet Brand Penetration can.